MSME Registration: Documents Required | Registration Process – LeadingFile
Preparing to start a business, then you have to go through the MSME registration. Now you must be wondering why is it important and what actually it is?
Don't take stress, In the following article, everything is explained in details. Have a look at it.
End Source: The end source goes to LeadingFile. Whereon, to go with the official guide, visit the link in blue: MSME Registration
Coming back to the article i.e MSME registration. Let's start with the definition.
Definition: MSME is for micro, small and medium enterprises and any enterprise which comes in any of these three categories.
MSME Enterprises is the backbone of any economy and is an engine of economic development, promoting equal development for all.
Therefore, to support and promote MSME, the Government of India promotes MSME through various subsidies, schemes, and incentives.
To receive benefits under the MSMED Act from the Central or State Government and Banking Sector, MSME Registration is required
Contribution MSME In Indian Economy
It produces about 45% of manufacturing output
It contributes to 40% of the total export of the country
About 80 million people are engaged in over 29 million units throughout the country
The contribution of MSME in India's GDP is 8%
Out of total registered MSMEs, around 54.27% of them are located in urban areas and 45.35% in rural areas
Employment creation is next to agriculture
It has created about 11.10 crore jobs in the country
Documents Required for SSI Registration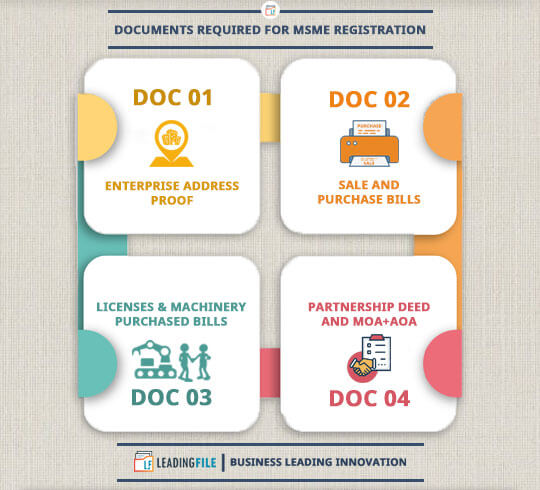 Copy of Aadhar card of the applicant.
Name of enterprise/business.
Type of organization you are opting for.
Copy of PAN card.
Address proof of registered office address.
Mobile no. & email address.
NIC 2 digit code.
A number of employees.
Investment in Plant & Machinery / Equipment.
Certificate of incorporation of your organization.
Canceled cheque of current account attached with the business.
Main business activity of the organization.
MSME Registration Process
Of Course – you're on your way to getting more & more exposure!
MSME / SSI registration is one of the most reliable, beneficial and non-mandatory registrations run by the Government of India. Completely online!
So, join the community that runs with online business opportunities and secretarial compliance. LeadingFile.com; Under the government and customer processing time, you can assist in getting online MSME / SSI registration within 10-20 working days.
Application Form Preparation
Under this option, a Financial Expert will prepare MSME / SSI application form for online MSME / SSI registration on an integrated portal.
Later, for preparing and filing MSME forms, you have to allocate all necessary supporting documents along with the DSC (Digital Signature Certificate).
MSME will be verified in the confidence of the MSME / SSI code generation upon filling the MSME application form.
Now, go to the next step i.e. MSME verification.
MSME/SSI Verification
As discussed above – once you prepare and send MSME applications, the details allotted by you will be verified.
Later, MSMED office will process the application form and provide MSME / SSI code number through which you can see the MSME status.
Application Form Submission
last stage! Under this alternative step, MSME application form after verification of MSME.
Upon submission, we will send you 17-digit ID number, MSME number and temporary identification card. Finally, a copy of the registration letter (C-11) can be printed.
Conclusion
Anything out of the box is a Trend these days. Apart from this, not abiding by any specific pattern makes us wonder how a singular idea can be versatile? Same is the case with the entrepreneurial spirit here.
With support from Government and youth's interesting in starting a new business, the MSMEs are growing rapidly.
Hope the article could be of some help to those who want to work for themselves or have business ideas but are not able to overcome a lot of confusions about how to start or fund their enterprises.
If nothing, the idea of ​​registering your company can really be a good start in the direction of dreams.
Tags :
MSME registration
MSME registration Documents Required
MSME registration procedure